It's a way of learning outside the traditional classroom setting. You can learn at your own pace, without any distractions or worrying about missing out on a subject.
Online education is growing in popularity, and there are many reasons why. People are looking for ways to educate themselves on topics they find interesting.
As higher education costs continue to rise, more people are turning to online education to save money and find affordable educational opportunities.
An online educational program is a type of learning through online technology. This is different than traditional education, where classes take place in a classroom, and a professor provides lectures. The courses offered in an online educational program are interactive, meaning that the student can participate in class discussions, ask questions and interact with classmates and professors via email, chat, social media, or mobile applications.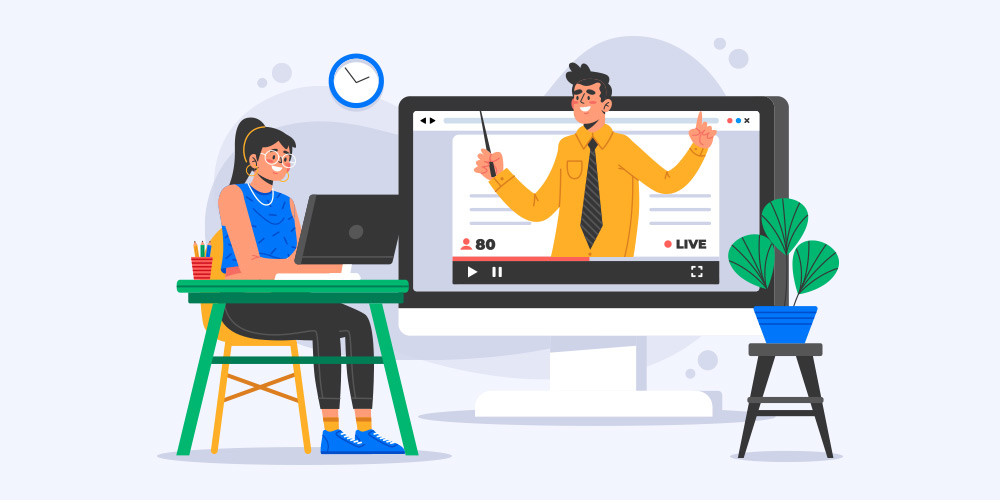 What are the benefits of online education?
Online education offers numerous benefits, including the following:
* Cost savings. The biggest benefit of online education is the ability to cut costs, as you can access courses from anywhere, anytime, and at any pace that suits you.
* Flexibility. You can learn from home or work as long as you have an internet connection and a computer.
* Portability. You can complete courses online, whether you're at home, traveling, or working from an office.
* Learning at your own pace. There is no pressure to complete courses in a set time frame. You can learn at your own pace whenever you have the time to fit it in.
* Online courses can help you learn new skills. The techniques you study may not offer you a job, but they can give you new skills you can use when you find a job.
* Professional development. Many employers and institutions require employees to complete training to keep up with developments in the industry. These courses are often offered online and provide you with a qualification that can be used to demonstrate your skill set to prospective employers.
* Access to courses. There are many different online courses available for you to choose from. Many offer courses on topics you would not otherwise get the chance to learn about, such as psychology, nursing, or law.
* Online courses are free. Many online courses are free, so you don't need to worry about the financial burden of learning new skills. 
What are some types of online education?
Today, most of the world's population is involved in online education. Whether it's from learning how to speak a new language or how to do a new job skill, online education is becoming an integral part of society.
Here are just a few of the most popular forms of online education:
Self-directed eLearning
Self-directed eLearning is often used by people who want to learn a new skill, such as how to play the piano or learn a new language. It's a relatively cheap and effective way of learning new skills because you can learn at your own pace.
There are also many free courses available online that cover a variety of topics.
Online Courses
These classes are typically offered by universities and cover a wide range of topics, from how to create a successful business plan to how to build an electric car. They're a great way to supplement your degree or learn something new.
Blogs
Blogs are another type of online education. Unlike eLearning, blogs are interactive and written by authors who provide information, advice, and sometimes even entertainment.
They can be used to promote your products and services, but they can also be used to teach you about things that interest you.
Apps
Mobile apps are one of the fastest-growing types of online education. They're often used for teaching kids to read or help people learn a new language.
Various free educational apps are available, including games, books, and lessons that teach you about a specific topic.
How do I get started with online education?
While there are many reasons to learn online, you may ask yourself if this is for you.
You may be asking yourself what type of learning you are looking for. Are you looking for online classes, MOOCs, eBooks, or a combination of the above?
There are many online courses, and we've created an infographic outlining the most common options.
It doesn't matter what type of online education you are looking for; the one thing that does matter is the quality of the provider. You want to ensure that the online educator is reputable, trustworthy, and has a proven track record.
How can I use online education to improve my business?
Online education is becoming more popular daily and for good reason. It allows stufor a good reasonnd and the world to attend classes online. It also allows people who want to earn an online degree to do so.
Online education can improve almost any aspect of your business, whether you are a small business owner or a big company. Here are some of the most common uses.
Business and Marketing
Learn how to write better sales copy, build a better website, or improve customer service.
Entrepreneurship
You can learn the ins and outs of starting a business online. From choosing the right legal structure to finding the best financing, you can learn all you need to know to create everything you needersonal Development
You can learn how to improve your life and become more successful. There are plenty of courses to choose from, so you can learn everything from becoming more assertive to enhancing your self-confidence.
Career and Professional Growth
You can learn new skills and become a more successful employee. Whether you want to learn how to become a better leader or improve your writing skills, there is an online course.
These are just a few of the many uses of online education. There are thousands of options, so you can find a course to help you reach your goals.
Frequently asked questions about Online Education 
Q: What is online education?.
A: It's any form of distance learning. You can learn just about anything, from college classes to learning how to play the piano.
Q: Is online education better than traditional education?
A: It depends on your interests and what you want to learn. For some people, it is easier to sit at home and study than to go out and try to find the things that interest you. However, for people who are already experienced with learning things through traditional methods, it may take them longer to learn things online. Still, they will know more when they finish because of the extra attention they pay to studying.
Q: Are online courses cheaper than traditional schooling?
A: Yes and no. You can get a lot of information online for free. But, if you will pay to take classes, then yes, it is cheaper.
Top Myths About Online Education 
There is no such thing as Online Education.
Online Education is not a substitute for traditional education
Conclusion
I would love to share some stories about how my journey with online education has been. But since this article is about making money online, I'll keep that for another piece.
Instead, I'll share a few things about what it is and why I think it's a great way to earn money online.
To begin with, online education has some of the same benefits as regular school. Students get to learn at their own pace, they can complete the lessons from anywhere, and they can always go back and review them if they need to.
But the real benefit is that you don't have to deal with the stigma of being an adult learner. The best part is that anyone can learn online, even if they don't have a lot of experience.